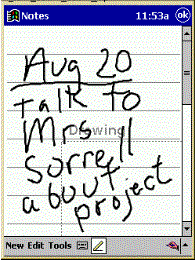 To Create a Note
1. go to START and select NOTES or to PROGRAMS and then NOTES
2. It will either go to a New NOTES page or to your FILE EXPLORER (just tap on the bottom left corner on the command bar on the bottom of your screen and hit NEW)
3. Just write across the screen in *your own handwriting or you can change the input method and use whatever method you choose.
4. Notice all the tools on the bottom of your screen command bar of NOTES. Hit EDIT, if you select all you can cut and paste. Hit TOOLS, *it will RECOGNIZE your handwriting and convert it using Transcriber if you select all, you can send via email/infrared, change the view size, rename and move files. Hit the icon that looks like a tape and you can record audio messages.